Did you know that canned food is considered a healthier option which includes more nutrients compared to dry food?
In this review of the best cat canned foods, keeping reading to find which products are the best to serve for your cat.
Types of Wet, Canned Food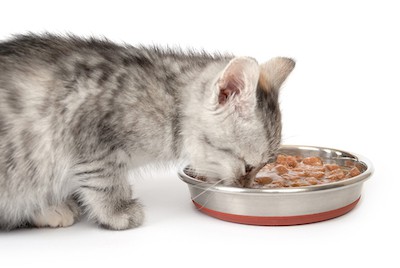 Perhaps, you thought of choosing from either dry or wet cat food only. But, apparently, there are also different types of canned or wet foods that you should be aware of. There are varied options to choose from knowing that there are various brands too.
So for the types of wet or canned foods for your cat, consider the following:
Pate
This refers to the food that is a spread of finely pureed or chopped seasoned meat. With regards to cat food, this type is usually a pureed one which is packed into cans and is a bit more substantial as well as compact than the shredded or flaked foods or the ones in broth or gravy.
Shredded or Flaked
This is also one of the most common kinds of wet cat food consisting of shredded or flaked meats in broth or water and being thickened with some gum or flour. There are also other recipes which might also include bits of cheese and veggies or fruits.
Meat in Broth
This type of cat food is most of the time sold in pouches, and it also consists of some meat being flavoured in broth. They might also include vegetables and could often come in flavours like a stew.
Meat in Gravy
Often, this type comes in pouches than cans, and they usually have some meat in a thickened gravy. This is also relatively high in calories, so it is used as supplemental food than a staple diet. Bear in mind these types of wet or canned cat food before purchasing one for your dear pet.
Benefits of Wet, Canned Food to Cat's Health
It is vital that you should feed your cat with food that is nutritious enough to maintain their health and keep any diseases away too. And with this, there is an assurance of reaping health benefits for the cat. Some of these benefits include the following:
Canned cat food offers nutritious and well-balanced contents, in terms of food type balancing. This would only mean that the main food groups are then well-balanced. On the other hand, dry foods offer a high concentration of carbs. So, it might not be appropriate to be consumed by your cat as this will lead to obesity or other health issues.
Another thing that you would love about canned cat food is that it is made from simple ingredients. If you will compare it to dry food, it has higher moisture contents in ensuring that the cat will be dehydrated properly.
If you only feed your cat with dry foods, your cat would need more water to drink as to compensate the lost moisture. However, cats might not drink enough water. So, this makes the canned cat food a lot more superior than the dry food making your pet remain vital all throughout the day.
Though wild cats could survive harsh conditions or could withstand various medical conditions, there are domesticated cats that would usually have less resistance to these conditions wherein infections could result from poor nutrition. And there is a need for you to feed these cats with well-balanced food that could only be provided by canned cat food.
Do you want your cat to be in its best health? If yes, then considering wet foods could offer the health benefits you might be aiming for.
Things to Consider
Of course, knowing that there are various brands out on the market today, there are things to take into consideration before you purchase the best one for your cat. These factors are as follow:
Ingredients
Look for canned food that contains high-quality kind of protein or more, and would be the primary ingredient of the cat?s food. Filling canned food having artificial flavours, starches, meat by-products, or fillers would offer a very unstable meal for the cat.
Feeding the cat with the finest food suitable for it at the same time keeping a well-balanced diet would require you to check the ingredients of the cat food you will buy.
Can Size
As you purchase cat food, also consider those with smaller cans than the big ones. For those with little kitty, it could be uncomfortable to use the large cans, and rather, larger cans are better for larger cats too.
It is recommended that you purchase cat food in many small cans than in only one big can for it to stay fresh a lot longer.
Lack of Artificial Preservatives
There is a need to make sure that you buy food which lacks soy, corns and wheat substances as these are meant to increase the quantity of food yet no nutritious values at all. There is a need to avoid buying cat foods that are bulked up with grains and wheat flour.
Cost and Budget
Well, this one is really a thing to consider. Bear in mind that you need to consider your cost and budget, though you are on your quest on finding the best product. Take note that better cat food might be more expensive, yet it would save you a ton of money due to poor nutrition. So, be wary of these factors before you go out and buy your cat the food that it deserves. Don't forget to know tips on how to buy healthy cat foods too!
Reviews of the Best Canned Cat Food
There are different items to pick, and it is not only about age and health. Convenience and price are other essential considerations, which cat lovers think about and my reviews provide a range of thoroughly picked cat canned foods for you to consider.
Editor's Pick- Fancy Feast Medleys Primavera Collection by Purina
The Purina Fancy Feast Medley is the first on my list. Fancy Feast is a favourite among cat enthusiasts and for a great reason. It's high-quality, consistent product and cats love it.
If you have a choosy feline, changing up the tastes he or she consumes can keep stuff interesting. This 24 3 oz.  canned cat food comes with three different recipes to pleasure your pet cat.
Chicken, turkey or tender tuna provides mouth-watering texture and taste. This offers a variety of collections, which a lot of cat desire. The small bites render picky eaters with the right size of food they want
Pros
Has actual vegetable texture
Food is balanced
Foods are small that cats prefer
Cons
Some consider there's too much gravy
Alternative/Runner-Up Pick - Fancy Feast Gravy Lovers by Purina
If you're the type of cat owner who has a gravy-loving cat, this best-wet cat food for kittens is the ideal option for you. My cat is a very picky and when I tried to give him this cat canned food, eating the whole can takes him one sitting.
The Fancy Feast Gravy Lovers is made with quality ingredients and protein sources. It includes small-bites and is served and slow-cooked in a thick gravy.
Pros
High-quality ingredients
Enough gravy
Convenient flip-top, which make fast
Budget Pick - Purina Friskies Tasty Treasures Variety Pack Wet Cat Food
Available in 3 tasty recipes, the this cat food is made with real fish, poultry or meat that provide gravy to delight your cat.
Therefore, if you are fulfilling the desires of your cat or you just bought a new cat to your home, this lovely and delightful dinner provides balanced and complete nutrition when fed based to your cat's weight and vet's recommendation.
Pros
Nutritionally balanced cat canned food
Cheap
Very tasty
Upgrade Pick - IAMS Healthy Kitten Grain-Free Canned Cat Food
This cat food uses a high-quality protein like salmon, turkey, chicken or tuna for the range your cat will like, with no gluten added or artificial flavours that denotes you're able to feel much better about giving for it to him.
Enriched with DHA for brain development and Vitamin E to encourage a well immune system, this cat canned food contains 24 2.6 oz.
Pros
No fake preservatives
Balanced and complete for growth
Cans are easy to clean
Cons
It's difficult to get a hold of this cat canned food in pet shops
Hill's Science Diet Adult variety Pack
The last of my healthiest cat food brands reviews is the Hill's Science Diet Adult Variety Canned Cat Food. This is a great variety pack, which offers you twelve cans in total.
They are the more prominent 5.5 oz. cans and make each of such flavours in 2.9 oz. cans. Nothing is notable about the cans. They open conveniently and reliably.
As to the food, no issues with my cat. Even though I need to mention that the smell of the cat food is quite strong, still, your cat will like the flavour.
Pros
No artificial preservatives or flavors
Hearty ingredients
Cons
Some feel the food is smelly
Final Verdict
In conclusion, there are lots of high-quality and best cat canned foods out there for our furry friend. Filled with lots, nutritional availabilities there's nowhere that you can go wrong with your option.
But for me, the best pick would be the Fancy Feast Medleys Primavera Collection by Purina.
The reason why I like this as my top pick is that I believe its high-quality cat canned food and fit most of my criteria for great cat food for my cat.