How sure are you that you're feeding your kitten the right food? If you want your feline friends to be healthy, then pick the best canned kitten food for them.
Though there are vast options out in the market today, like Soulistic cat foods, it is a bit tricky to learn which one serves your little feline the best.
Knowing that kittens are the growing baby, they need more nutrition compared to the adult ones. So, as the cat owner, you have this duty of finding the right food for your little kittens.
Here's what's coming up:
Why canned foods?
Can canned foods be the best option to feed the kitty over other options? There are so many reasons why choosing canned food is better than dry food.
Those cats that are used to eat canned food are a lot more immune and might less likely to develop diabetes or heart disease.
Canned foods contain a lot of water. Most canned foods have 75% of water. So, this kind of diet could fulfil the maximum daily water requirement of the cat's body. It is indeed an excellent choice for the kitties which are apathy when it comes to drinking water.
Be aware too that some kitties are picky wherein they are also disgusted by the dry food, so canned food is an excellent option for those picky ones. Though both dry and canned foods offer benefits, the latter one provides additional benefits to the kittens.
How to Feed the Kitten?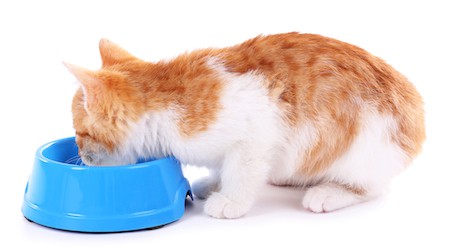 For those with new kittens, learning about taking care of them especially feeding them is essential. It might be a little troublesome to feed a kitty at an early age, but that doesn't seem impossible too. Once you have the proper knowledge as well as an idea for various situations together with a lot of patients, things will be a lot easier on your part.
What type of food should give to the kittens?
There's dry and wet kitten food available. The kittens must eat three to four meals a day. At least one of those should be wet food.
How Often to Feed the Kitten?
The frequency depends on different factors like how old the kitten is and the type of food that you are feeding him.
Very young kittens should be fed many times a day. And we all know that kittens are very active because they burn up a lot of energy. With that, they need to replace the said energy at least every few hours.
That's why there is a need for you to plan to feed the kittens at least three to four small meals every day. And since kittens are tiny and they couldn't overeat at a single meal, they cannot eat huge meals. In such case, choosing the best canned kitten food is essential as you feed the kittens during the said feeding schedule.
And once the kitten gets older, continue feeding the canned food to three or four meals a day. This is the best way to ensure that the kitten is getting enough calories at every meal.
Along with that, the kitten must have plenty of water at all times.
What Factors to Consider When Buying food for your kitten?
Of course, there are specific considerations once out for shopping the best canned kitten food. Some of the factors to consider are the following:
1. Ingredients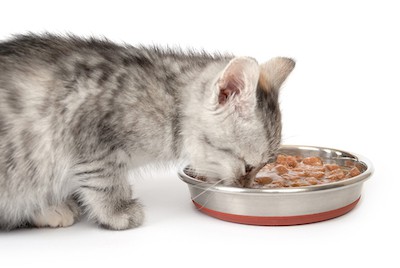 Canned food must contain at least one  type of high-quality protein that is found to be the main ingredient in the diet of the kitten.
Some canned foods can be stuffed with meat by-products, artificial flavours, fillers, fats and starches.
Make sure to check the ingredients of the food you are buying for the benefit of your feline friend.
2. Artificial Preservatives
Make sure that you purchase products that does not contain corn, wheat or soy substances. Why? Because these substances are meant to increase the food quantity yet no nutritious features at all. Avoid buying foods that are bulked up with grains and wheat flour as much as possible.
3. Quality over Quantity
You must also consider the small cans rather than the bigger ones. For those with small kitties, it's uncomfortable to use large cans as these are best for larger cats. It is recommended that you buy food in smaller cans for it to stay fresh.
4. Cost and Budget
Of course, you should know your budget first and pick a product that suits it. If you could afford to buy a premium cat food, only do it if you are sure that it's the best one. But, if you're on a tight budget, pick the one that suits both your budget and your needs.
Foods to Avoid Feeding to a Kitten
And since we're talking about the nutrition of the kitten, I believe you should also know some of the foods that you shouldn't feed to them. And these foods are the following:
Caffeinated Products
Since they are stimulants, they could produce palpitations muscle tremors and very fast breathing. They could be very dangerous though these might not lead to the demise of the kitten.
Chocolates
These treats are admired by almost everyone, but these could be fatal to our pets and kittens aren't exempted. Chocolates contain both the caffeine and theobromine known as natural stimulants which could lead to rapid heartbeats failing the pump mechanism of their hearts.
Also, chocolates might also cause tremors, seizures and muscle twitching. Bear in mind that the darker and more bitter the chocolates are, the more severe the problems may be.
Dairy Products
It might be okay to give milk or other dairy products to the kitten, but if they have lactose intolerance, it might lead to vomiting or diarrhea and electrolyte or fluid imbalance.
Raw meat, fish, eggs, and fat trimmings
Fresh foods could contain E.coli or Salmonella leading to numbers of gastrointestinal problems. The fat trimmings might also result in acute pancreatitis. Other dangerous foods that you should not feed your kittens are grapes, raisins, onions, garlic and even alcohol too.
Reviews of the Best Canned Kitten Food
Purina Pro Plan FOCUS Wet Kitten Food
For better nutrition for your kitten to grow energetic, healthy and happy, this product might be your top option. It is made of a unique formula containing low carbs, high protein, fatty acid, mineral, vitamin, and proper hydration.
With this diet, there is a reasonable constancy providing easy and soft to chew and swallow. This canned food could also be fed to kittens either with a sensitive stomach or those allergic to foods. And this option is also useful to gain body weight yet will not overweight them. This also improves the skin texture of the kittens, and the coat and provides stronger teeth and gum.
Plus, this canned food is also suitable for progressing better immune system allowing your kitty to be more energetic and healthier.
Pros
+ Comes with lots of flavor and ingredient options
+ Rich with omega fatty acids, vitamin and protein
+ Free from grains and gluten
+ All natural ingredients
+ Better and softer consistency
+ Easy to chew and swallow
+ Helps in gaining weight
Cons
- Suitable for kittens up to a year old only
- The food stinks badly
Royal Canin Kitten Instinctive Canned Cat Food
This second pick is perfect for young kittens ageing from one to four months which are in the weaning stage. The product is soft and easy to eat along with a balance of the critical nutrients for cats, particularly those who are moving from a milk-only diet to the solid food diet.
With its high moisture content, it helps in digesting and processing the foods. And since young cats need to be always hydrated, this one is indeed an ideal choice.
There is also a unique balance of fats, proteins and whole carbs preferred by most kittens. Together with, it is supplemented with antioxidants which strengthen the immunity of the cat in fighting infant illnesses and infections.
Pros
Soft and easy to eat
Balance fats, carbs and proteins
Antioxidants that strengthen immunity
Cons
A bit pricey
Might cause diarrhea to some cats
Wellness Complete Health Wet Canned Cat Food
Another great pick is this third product known to be ideal for finicky eaters. The diet is balanced and complete to offer the needed energy to support the playfulness and energy needs of the kitten. It contains more fats and proteins than the typical cat foods.
Since cats have this high need for proteins for them to build bones and muscles, this diet offers the needed nutrients for growth. Along with that, it is also supplemented with whole fruits as well as vegetables providing natural minerals and vitamins.
The top ingredients of this product include crude fat, crude proteins, crude fibre and moisture. Also, it has DHA acid and taurine for brain and eye development. Some other essential ingredients are cranberries for urinary tract health, carrots which are high in antioxidants and flaxseed for healthy coat and skin.
Pros
Made of natural ingredients
Free from grain and carrageenan
Improves eyesight, gums and teeth
Boosts energy levels
Safe for kittens
Wellness CORE Wet Canned Cat Food
For the fourth pick, this one is easy to digest and is free from grain too. It is made of fresh and top quality ingredients containing herring, turkey, chicken, cranberries, fish oil and menhaden.
The fish oil offers fatty acids and DHA fortifying inner wellness of the kittens. Plus, the Omega also works to keep the heart well and makes the coat and skin shiny. And the DHA works for the development of the brain and the eyesight. Every can is made for serving the daily nutrition complete with minerals, vitamin, fibre and protein.
Besides, the food is hydrated, comfortable and very soft to swallow. Indeed, this one is a balanced meal for the daily need for protein and energy. You can also add this on top of other kitten food if you wish. It also helps the body of the kitten to promote a healthy urinary tract system and will make the poop regular in right consistency.
Pros
Grain-free
Supports eye development, healthy brain and immune system
Made of all premium quality ingredients
Easy to swallow
Last for couples of days if opened
Nature's Original Kitten Canned Cat Food
Last but not the least is a grain-free product that contains a mix of real salmon, chicken and beef. It offers a high level of proteins to meet the required energy by those active kittens.
The ingredients are composed of crude proteins, crude fibre, crude fat, and moisture. There are also omega three fatty acids and the omega six fatty acids. And good to know, it doesn't contain by-product meals, grains or other artificial additives.
Pros
High in protein
No artificial ingredients
Delicious pate texture
Prepared in the USA using local and imported ingredients